There are numerous things to take care of when you build up a startup, especially a tech-related startup. One of the most common questions we have found so far is: what should the founder/CEO do when they just have a great idea but got no technology background or solid knowledge about the field?
One simple answer to that question: they don't need to have a technology background to run a tech startup. There are many live famous evidences that we could take as examples: Airbnb's co-founder – Brian Chesky – was a designer; Pandora Radio's CEO and founder – Tim Westergren -was a sound engineer and musician while Pinterest's CEO and co-founder – Evan Sharp studied Architecture when he was in Columbia University.
These prove all you need is innovation, not technical knowledge if you want to thrive in the tech startup world. There are many outsourcing companies that may help you and we – Inovatoro is a place you can choose to turn your innovative ideas into reality with its variety of providing services like Web/Mobile Application Development.
However, prior to approaching any outsourcing company like us, you can save your time and cost by reading through the below step-by-step guideline, where we would show you how to identify your audiences, test for demand, sketch out your idea, use Figma, and at the end we can suggest you the mockup list for your innovative application.
Test for demand.
Before starting to invest time, energy, and money into any business idea, make sure you choose the right idea, understand customer needs correctly, and determine if the selected market is big enough to make a profit. Following these below steps will help you to clarify all these things and optimize your cost when hiring a development team to turn your idea into reality.
Know your target customers
The truth is, not everyone will be your customer. So you need to determine who your potential customers are. Small businesses can compete with large companies by targeting a niche market. Targeting a specific market doesn't mean you exclude people who don't fit your criteria, rather than that, it would help you save your marketing cost and effort. This is a much more effective and efficient way to approach potential customers.
You should paint a clear picture of your potential customers, find out their needs, interests, personalities, and demographics. Consider creating customer personas based on your research as well.
Customer persona is semi-fictional representations of your ideal customers based on data and research. They help you to focus your time on qualified prospects, guide product development to suit the needs of your target customers, and align all the works across your organization (from marketing -> sales -> service).
As a result, you will be able to attract high-value visitors, leads, and customers to your business – who would go along with you as your business grows.
Hubspot provides us a great tool that helps you create your customer Persona, you can check it out at Make my persona.
Competitive analysis
Competitive analysis can help you learn the ins and outs of how your competition works, and identify potential opportunities where you can outperform them. Take your time to research your competitors. Make a list of the main competitors, go through that list and do the SWOT analysis to determine their strengths and weaknesses. Once you determine your competitor's strengths and weaknesses then you can determine your advantages and marketing position.
How to research for the demand
If your business idea is totally new or you provide a new feature that improves the existing product, you may need to find out whether the customers need your product or not. There are several ways to test for demand, such as:
Keyword Research Tools
This is an easy way to get a preliminary idea of demand, people may search on google about what they need with the related keywords, so that you can see how many monthly searches are performed for various related keywords. If there are a few hundreds or thousands of searches performed, that's a good sign that people are looking for what you're selling or providing, let's move to the next step!
Ask the community
It's a great idea if you ask your friends, people you think may be interested in your app. You will get more comments from them about what they actually need and you may have a clear picture of your application features.
Create a minimum viable product (MVP).
Sketch note for the idea
Put the pen to paper and sketch out the ideal. That will help you to get out your own head and wrap your mind around the product you're offering even though you don't have any design experience. After that, you can use some free tools to design the first version of your app.
There are various tools that help you to design a high-quality mock-up easily such as Proto.io or Figma. After finishing your design, you can use the mockup to demo with your potential customers and gather more feedback from them to improve the app. Here is how your mockup looks like in action: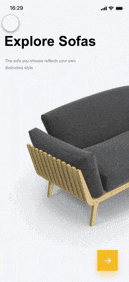 Start design your application with Figma
We also collect some Figma template about the mobile app and web application wireframe, they may help you speed up your progress:
How to outsource your app
Know your requirement: After reading through all of our sharing above, you should have sketched out the big picture of your application and know exactly what your app is and how it will operate. Find an app development team: You need to select the type of outsourcing mobile application development team. Types include onshore, nearshore, and offshore.
There are three main places to look for outsourcing companies:
B2B directories like Clutch and GoodFirms – the best place to search for an app development company.
Freelance websites like Upwork, Guru, and Golance – flexible online marketplaces that connect businesses of all sizes for all their hiring needs.
Linkedin where many tech companies chose it for their content development and funnel building.
Check portfolio and communicate with previous clients: Check their portfolio carefully and try to pay attention to the feedback from their previous clients (if any).
Select service model: There are several models you can choose from, depending on your business and budget: project-based, dedicated teams, or service-based models.
Choose a payment model: For a dedicated team or a project-based working model, you can choose among fixed price or time and material paying models.
CONCLUSION
It has never been an easy task to start everything from scratch and we know how difficult it is to make it through until this point of the article. We hope the above detailed guideline would somehow help you to understand the concept and come up with an idea on how your business will be in the near future.
If you still don't know how to start or you have reached to the end and are looking for a reliable outsourcing company, don't worry, Inovatoro will be on your side and help you be successful with your business. Contact us at [email protected] or take a detour in our website for more detail.